ABOUT THE PRODUCT
Polyester wadding or also know as Poly-foam is a chemically designed foam that acts as an insulation material towards Heat, Thermal and Noise. Its smooth surface, gauge control, superior physical strength, Chemical Properties, low water absorption and vapor transmission make Polyester wadding (poly- foam) roll the right, versatile and dependable solution for many insulation applications.
In the Construction and Building Material Industry, Polyester wadding is mainly used as a substitute for Glass wool or Rock wool Insulation for Acoustic and Thermal Treatment as it is safer and a Non-Carcinogenic material in nature. Also, these Poly foam rolls are available in various sizes, Thickness and Densities.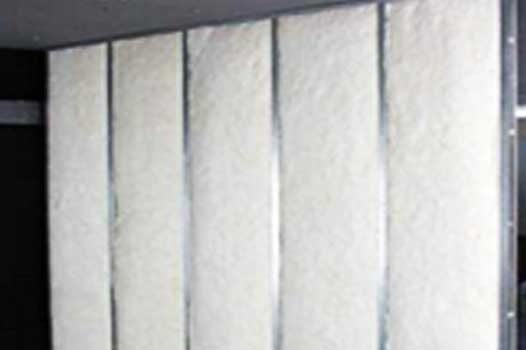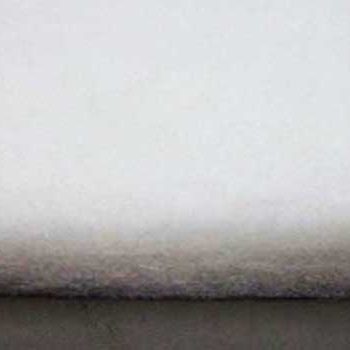 ABOUT JAYSWAL AGENCIES
With a vast experience in the Acoustic segment, Jayswal Agencies are authorized distributors and suppliers for various Acoustic related material such Polyester Wadding (Poly-Foam), Fiber Glass Wool, Mineral Rock Wool, Wood Wool Board, Acoustic grid ceiling tiles etc. Since its establishment, we have maintained the highest standards of quality control and assurance adhering to Standard Operating Procedures.
With 34 Years of experience in the market, we have strived to become a leading supplier of Polyester wadding in Bangalore and other parts of Karnataka and South India. With no compromise in the quality of our products and having a transparent business model, our products have been used in many projects by reputed clients such as TATA Projects, Mantri Developers, Salarpuria Sattva, Mittal Universal, Hoysala Developers etc. Hence, guaranteeing a transparent process and a fast delivery once a purchase order has been placed.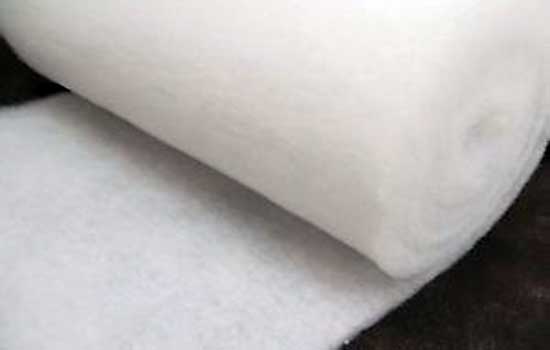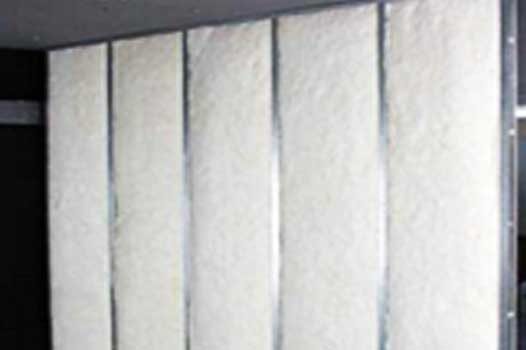 PRODUCT SPECIFICATIONS:
- Material: 100% Polyester
- Thickness: 25mm and 50mm
- GSM: 500 and 1000
- Coverage / Roll: 192 Sft
- Color: Raw White
- Fiber Type: Staple
- Pattern: Siliconized
- Style: Solid
- Usage: Insulation / Filling Material
TECHNICAL SPECIFICATIONS
- Non-irritant, Non-allergic, Non-carcinogenic
- Sound Performance: NRC of 0.9
- Withstand Temperature up to: 450°C
- Water absorption: < 1 kg/m2
- Light Reflectance: 75%
- Breaking Load: >150N
- Non-combustible in accordance with IS 3144, BS 476 (part 4)
- Anti-Distortion, Anti-Pilling
APPLICATIONS OF POLYESTER WADDING / POLYFOAM
PARTITION INSULATION
As Polyester wadding (Polyfoam) has an excellent insulation towards heat, thermal and Noise; they can be used as an insulation material in Partition walls. They can be either be placed between two boards / can simply be covered by fabric to give a lustrous, vibrant look. Thus eliminating any form of echo in the room.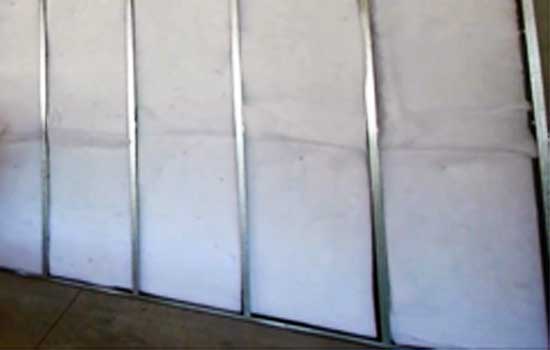 FALSE CEILING
The same procedure can be applied to any Form of False ceiling whether it being Gypsum Board False Ceiling or Grid Ceiling. In case of using it on the top most floor of a building, it not only helps in Acoustic treatment but can also helps in lowering the temperature of the room by a few degrees.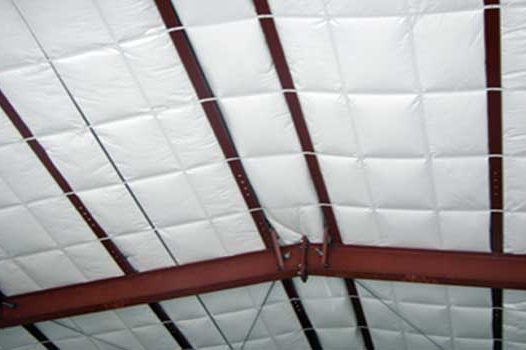 ACOUSTIC TREATMENT
As Polyester Foam plays a major role in Acoustic Treatment, these foams can be used in creating Acoustic Panels by wrapping them in fabric and placing it on the wall. Making it a very economical and efficient product in areas such as Home theaters, theaters, recording studios and conference rooms.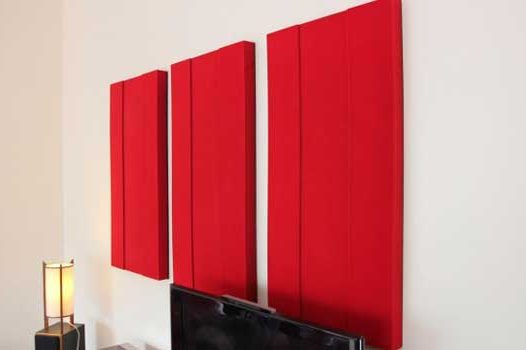 OTHER AREAS FOR INSULATING:
- Acoustic Backing
- Exterior applications for sealing, filling, etc.
- Seals and gaskets for mechanical applications.
- Pillows, Bed Mattresses, Camping mats
- Underlay for parquet floors, seals for pill bottle lids, etc.
PRODUCT FEATURES
- Special fiber structure
- Thin, light and Imitation silk surface level off.
- Good resiliency with warm-keeping ability
- Difficult to drill from the lining
- Strong water resistance and anti-deformation
- Special Bonding with low melting point fiber
- No harm to health. No form of allergy or irritation caused.
- Non-carcinogenic: Does not cause cancer.
- Eco-friendly and Recyclable material.
ADVANTAGES OF USING POLYESTER WADDING
Lightweight:
The weight of one polyester wadding roll is between 2-3 pounds per cubic feet. It helps in making it easy to transport and install in areas where the load capacity is very less.
Highest "R" Value:
Polyfoam has an aged "R" value which enables the product to give a high thermal resistance when compared to any other insulation material.
Minimizes Thermal Shock:
As Polyester wadding has an additional layer of reflective coating, it helps in reducing any form of thermal shock that the building receives due to fluctuating out door temperatures.
Versatility:
Polyester wadding can be used in both new and existing roofs; as well as for saw-toothed, whether flat, pitched, domed, or configurations having unusual slopes.
Rigidity:
Although poly foam is very lightweight, it is strong and will not pack down or sag.
Flexibility:
Polyester Wadding has the ability to withstand a structure's normal expansion and contraction without affecting the ability to keep the structure protected from any outside elements.
Watertight:
Polyester wadding is made up of billions of minute closed cells which in return resists the penetration of water and vapors.
Ease of Application:
Polyester wadding can be easily installed by any person in a relatively short period of time with little or no disruption of building operations as it does not cause any breathing or irritation problems to the skin.
Ease of Maintenance:
Polyester wadding is easy to maintain and minor repairs can be made by an in-house maintenance personnel at minimal cost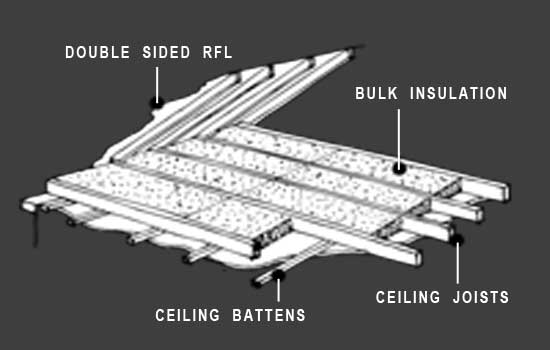 REASONS TO BUY POLYESTER WADDING FROM JAYSWAL AGENCIES:
Quality:
Our main policies is to provide the best of products and services to our customers. Hence, we ensure that our Polyester Wadding rolls are of high quality.
Availability of the product:
No matter what quantity is required, we always have a large stock of polyester wadding available at all times. Hence, making it easier and faster in procuring the material.
Guarantee:
Our Polyester Wadding has a very high life expectancy and guarantees a minimum life of 10 years.
Cities We Supply to:
We are Suppliers and Dealers of Polyester Wadding in Bangalore and many other parts of India i.e. Karnataka, Chennai (Tamil Nadu), Hyderabad (Telangana), Cochin (Kerala), Coimbatore, Mumbai, Surat etc.
Samples and Exhibits:
We also have exhibits at our showroom which will help you understand the product in a better way. Apart from that, do let us know if you require samples of polyester wadding or any other acoustic / Soundproofing or False ceiling products. We will provide you with all the necessary samples and product information.
Designing and Installation:
Being one of the largest suppliers of Polyester wadding in Bangalore, we have a large circle of Experienced Contractors who are associated with us for many years i.e. We can help you in choosing the right person for executing your requirements. Hence, providing an end to end solution to all your False Ceiling and Acoustic Needs.
POLYESTER WADDING PRICE (BANGALORE) AND OTHER DETAILS :
To know more about the price of polyester wadding or any other information regarding our product range, kindly call us or send in your requirements via mail.
We will get back to all your queries as soon as possible.
Customer Care:
Raman: +919008400701
C.N Jha: +919008400705
Email Address:
sales@jayswalgroup.com
jayswal1@yahoo.co.in
Address
#6, 10th B Cross, Jayswal Center,
KHB Road, Kavery Nagar,
Kanaka Nagar, R.T Nagar Post,
Bangalore - 560032.