Acoustic Treatment for Big Basket, Bangalore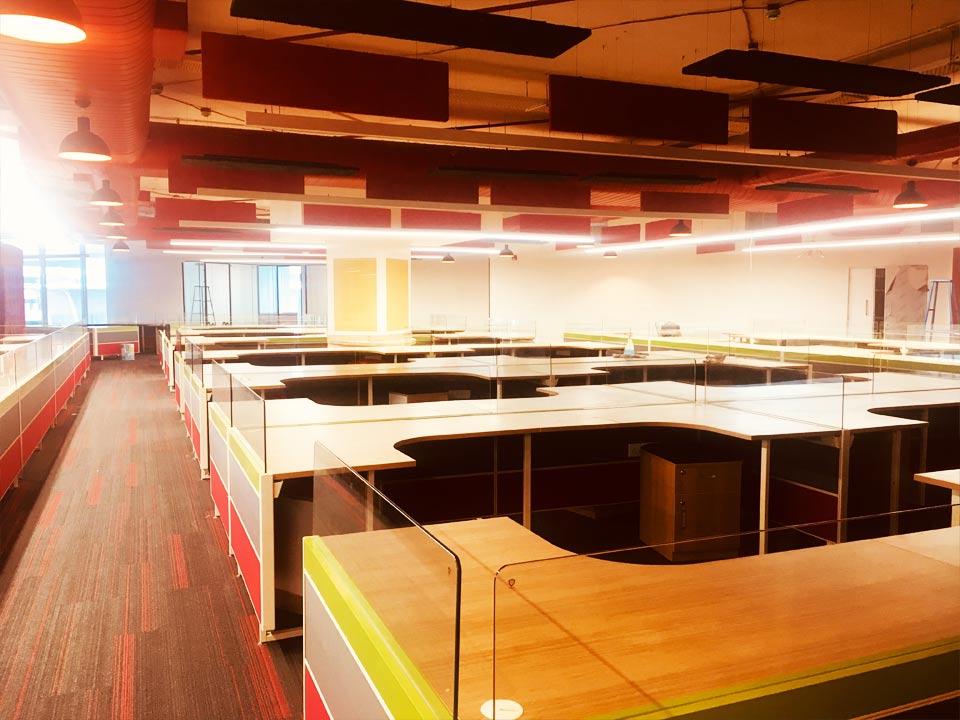 Acoustic Treatment was carried out for Big Basket Headquarters in Bangalore. The Process involved a Acoustic Baffle system by using 25mm thick Jitex Wood Wool Acoustic Board. The Acoustic Boards were suspended from the ceiling using Steel wires of 2mm. A pattern of both Vertical and horizontal panels were installed in alignment with the work stations.
The panels were equally distributed across an area of 15000 sft over two floors. The size of the Acoustic Panels were 4ft x 1ft and were suspended at a height of 2 meters from the ceiling. With an increasing practice of retaining the original ceiling, the acoustic baffle ceiling system was devised in a manner that the original ceiling remained visible and yet achieved the required acoustic treatment. Thus not only maintaining the required criteria but also improving the aesthetics of the office space.
The Acoustic panels were further finished by spray painting two layers of water base paint. As the entire theme of Big Basket revolved around the colors of red and black, the wood wool boards were painted with the same combination. This synchronized perfectly with the other aspects of the office space.
The Following materials were Used:
1. JITEX Wood Wool Board (Acoustic Panel) – 25mm Thickness – 300mm x 1200mm
2. Steel wire of 2mm with an adjustable height bullet fastener