ABOUT THE PRODUCT
JITEX Metal ceiling tiles are ceiling tiles made of 0.40mm Thick Polyester Coil Coated Galvanized Iron (G.I) sheet with a Zinc Coating of 120 GSM. These Metal ceiling Tiles are available in either Square or Tegular Edge with designs ranging from Simple Plain White to Perforations i.e. with various hole patterns in order to optimize them for better Aesthetics and Acoustics. As both come in chrome metal, this particular Metal Grid ceiling Tile and System is ideal for any project whether it being a large or a small environment.
Plain and Perforated JITEX Metal Ceiling Tiles are light weight, Strong, color-rich and can be installed very quickly and easily. These Tiles further provide various other benefits like heat insulation, Sound Insulation and Fire Resistance which makes it ideal for Places like
Corporate Offices, Theaters, Exhibition halls, Conference centers etc.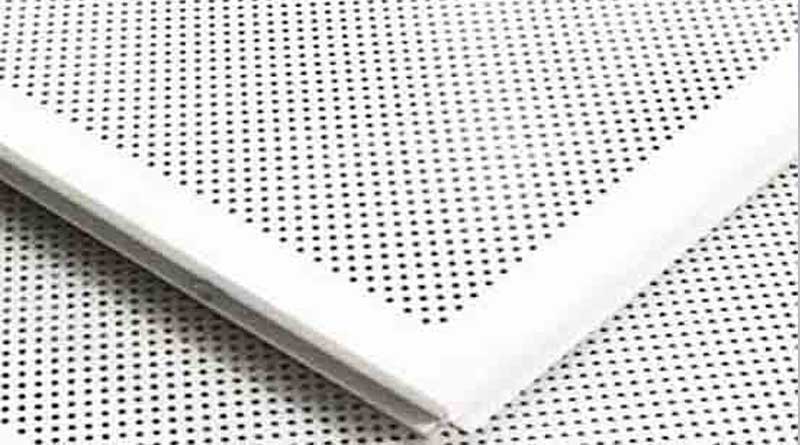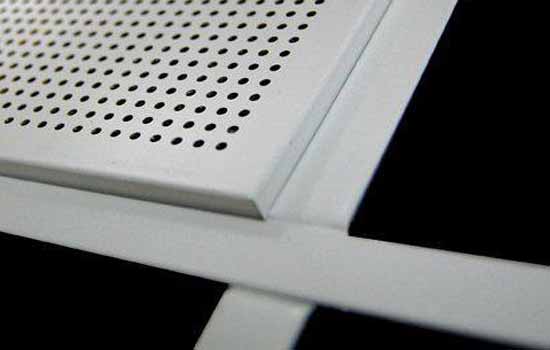 ABOUT GRID CEILING
Grid False ceiling is a suspended form of ceiling that is brought down from the original or existing ceiling. It is also known as T-Grid ceiling because of the usage of "T-bars". The support system mainly consists of "Main – T Runners" and "Cross – T Runners" which after joining together form a 2 feet x 2 feet grid system on to which the Metal Ceiling Tile or any other Grid Ceiling tile is placed.
Currently Grid Ceiling Tiles are used in Corporate or Commercial Projects. Previously, due to very limited options in this particular form of False Ceiling, they were used to hide pipes, electrical wiring and ducting. However, over the years many options have been made available at Jayswal Agencies which ranges from Metal Ceiling Tile to PVC Gypsum Laminated Ceiling Tile, Mineral Fiber Ceiling Tile, Glass Reinforced Gypsum Ceiling Tile etc. This helps in providing our customers with the option of creating a unique design to suit all kinds of tastes and preferences. Further to that, apart from providing better Aesthetics, these ceiling tiles also give additional benefits like Thermal Insulation, Acoustic Insulation, Moisture Resistance etc.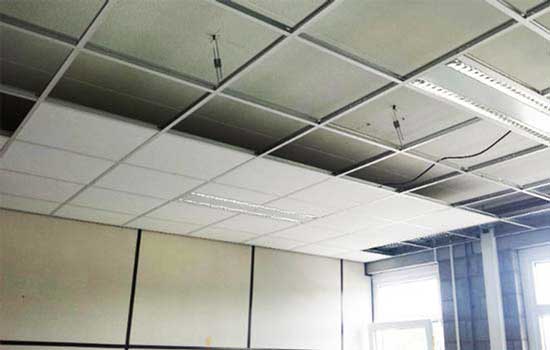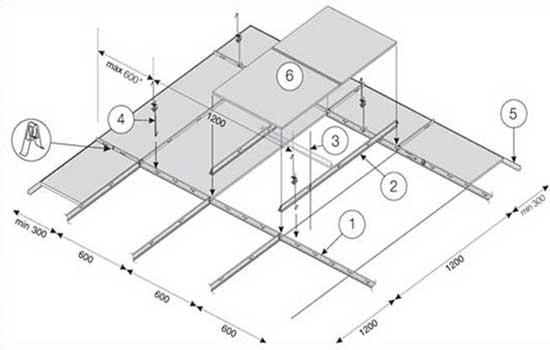 PRODUCT SPECIFICATIONS :
- Size: 2ft x 2ft and 2ft x 4ft
- Tensile Strength: 10 PSI (ASTM D3574-77)
- Density: 5.7lbs / cubic foot
- Heat Conductivity: K Factor=0.38 @ 50 degrees F
- Fire Resistance: Class 1 (ASTM E84)
- Elongation: 20%.
CUSTOM OPTIONS FOR METAL CEILING TILES:
- Tile dimensions
- Color of metal
TECHNICAL SPECIFICATIONS
- JITEX Metal Ceiling Tiles meets building code for seismic zones A, B, C, D, E, and F.
- No VOCs: No added urea-formaldehyde
- Class A Fire Rated, per ASTM E-84
- High recycled aluminum content
- Durable and class 1 fire rated
- Eco-Friendly and Green Product

AESTHETICS
JITEX Metal ceiling tiles are strong, long-lasting, durable, and elegant. Thus, adding not only value but also improving the aesthetics of the room.


THEY HIDE IMPERFECTIONS
Metal ceiling tiles are ideal for covering unsightly plaster ceilings, Electrical Pipes, Fire Pipes etc. Making it an easy to Install Product for any Interiors Decoration or Renovation Projects.


MINIMAL MAINTENANCE
JITEX Metal Ceiling Tiles do no corrode or rust over time. Apart from that, as it has a glossy finish, dust does not easily settle on to the tile. Hence, reducing any kind of maintenance costs whether it being in terms of costs or time.


Plain and Perforated
Whether it being for Aesthetics or Sound Insulation, we have a Metal Ceiling tile design available for all your requirements.


INSULATION MATERIAL
JITEX Metal Ceiling Tiles are best suitable for sound insulation, heat insulation and thermal insulation.


EASY TO INSTALL
When compared to Gypsum False Ceiling, Metal False Ceiling tile can be installed in 1/3rd of the time when compared to Gypsum Board False Ceiling.


APPLICATIONS OF JITEX METAL CEILING TILE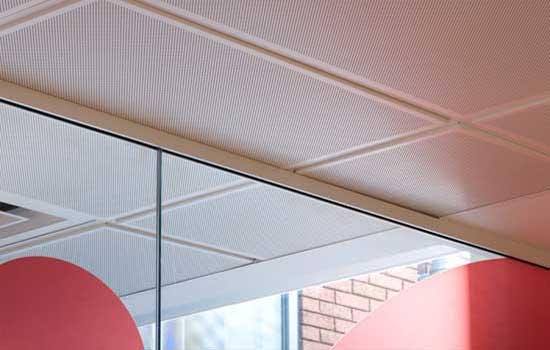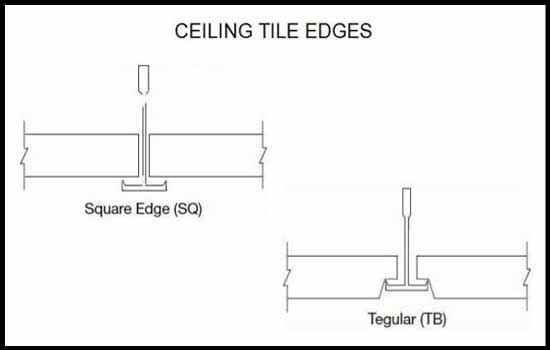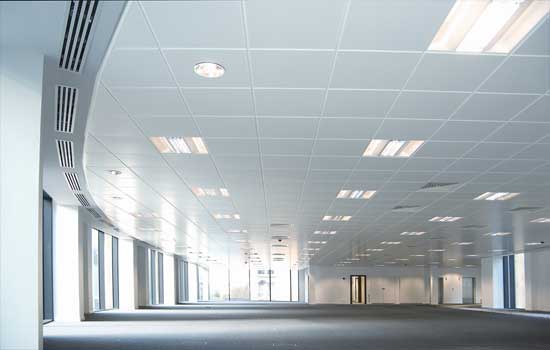 APPLICATIONS:
- Conference Rooms
- Corporate Offices
- Meeting Rooms
- Cabins
- Reception / Waiting Lounges
- Cafeterias
- Schools / Colleges
- Hospitals
APPLICATIONS:
- Concert Halls
- Gyms / Sports Rooms
- Libraries
- Theaters / Cinemas
- Home Theaters
- Recording Studio
- Business Centers etc.
ADVANTAGES OF JITEX METAL CEILING TILE
JITEX Metal ceiling tiles provide a wide range of benefits when applying them to the main ceiling. Apart from providing High Acoustic Insulation, Thermal Insulation, Fire resistance and Water Resistance; these tiles provide various benefits when compared to the regular Gypsum Board False Ceiling such as:
STRENGTH:
JITEX Metal ceiling tiles / panels are stronger and less prone to cracks and breaks when compared to other traditional dropped / Grid ceiling materials such as Mineral Fiber Ceiling tile of PVC Gypsum Laminated Ceiling tile. Also, Being able to access the main ceiling or any other hidden pipes or wires without the fear of breaking the ceiling tiles by opening them is a big advantage with metal ceiling tiles when compared to other tiles.
APPEARANCE AND AESTHETICS:
JITEX Metal ceilings tiles are available in a wide variety of styles and textures. These tiles come with a White Pre-Painted finish which do not require any other form of finish when compared to Gypsum Board false ceiling which requires Painting. These Ceiling tiles can further be customized and produced in a different size and color depending on the Order Quantity. Metal ceiling tiles can create a totally different look by designing the underlying supports in curving structures or by creating differing heights.
COST EFFICIENT:
JITEX Metal false ceilings tiles are cost effective and are flexible. They can be installed very quickly and easily and require very little effort in terms of efficient, making it one of the best options for any False Ceiling Projects.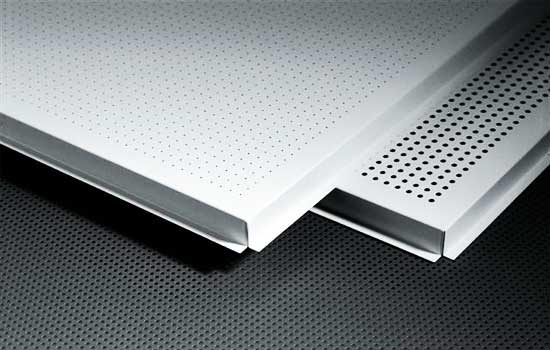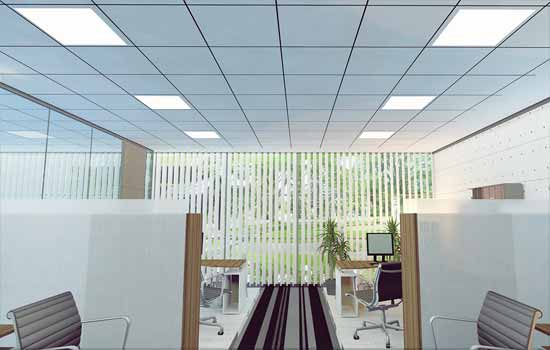 ABOUT JAYSWAL AGENCIES
Jayswal Agencies is a Manufacturing and Product Stockiest Trading company that provides Interior and Exterior Building Materials to its consumers. Since its establishment in the interior market, Jayswal Agencies specializes in the fields of False Ceiling, False Flooring, Acoustic and Soundproofing products. With 34 years of experience, We are one of the leading manufacturers, Importers, Dealers and Suppliers for various Grid Ceiling Materials like Metal Ceiling tile, Mineral Fiber Ceiling Tile, PVC Gypsum Laminated ceiling tile etc. in major cities like Bangalore, Hyderabad, Chennai, Cochin and many more.
With no compromise in the quality of Metal Ceiling Tiles or any other Grid Ceiling materials, and having a transparent business model, our products have been used in many projects by reputed clients such as Salarpuria Sattva, TATA Projects, Mittal Universal, Mantri Developers, Hoysala Developers etc.
REASONS TO BUY JITEX METAL CEILING TILE FROM US:
AVAILABILITY:
No matter what quantity, pattern or design is required require, at Jayswal, we always have a large stock of JITEX metal ceiling tiles available at all times. Hence, making it easier and faster to procure the material.
GUARANTEE:
Our products are highly durable and have a life of up to 8 to 10 Years.
DESIGNING AND INSTALLATION:
Apart from being Metal ceiling tile suppliers, dealers and manufactures in Bangalore, we also provide services in terms of installing it. We have a highly specialized team of Grid False ceiling contractors and engineers who will carry out the entire process of installation which ranges from analyzing, designing, fabrication, implementation and execution. Giving you an end to end service and solution to all your Grid False Ceiling needs.
PRODUCT CUSTOMIZATION:
As we are manufacturers for Metal False ceiling tiles, we can provide services in terms of Standard Customization in terms of size, color and Pattern. Hence, catering to all custom orders.
Note: Minimum orders, setup charges and longer lead times may apply to custom orders
QUALITY:
One of our main policies is to provide the best of products to our customers. Hence, we have the best quality of metal ceiling tiles available in the market.
CITIES WE SUPPLY TO:
We are suppliers, dealers and manufactures of Metal Ceiling tiles in Bangalore and many other parts of India i.e. Karnataka, Chennai (Tamil Nadu), Hyderabad (Telangana), Cochin (Kerala), Coimbatore, Mumbai, Surat etc.
SAMPLES AND EXHIBITS:
We also have exhibits at our showroom which will help you understand the product in a better way. Apart from that, do let us know if you require samples of metal ceiling tiles or any other acoustic / Soundproofing or False ceiling products. We will provide you with all the necessary samples and product information.
JITEX METAL CEILING TILE PRICE (BANGALORE) AND OTHER DETAILS :
To know more about the price of JITEX metal ceiling tiles or any other information regarding our product range, kindly call us or send in your requirements via mail.
We will get back to all your queries as soon as possible.
Customer Care:
Raman: +919008400701
C.N Jha: +919008400705
Email Address:
sales@jayswalgroup.com
jayswal1@yahoo.co.in
Address
#6, 10th B Cross, Jayswal Center,KHB Road, Kavery Nagar, Kanaka Nagar, R.T Nagar Post,
Bangalore - 560032.
OTHER GRID CEILING AND FALSE CEILING PRODUCTS