Acoustic Treatment for a Recording Studio in Vijaynagar, Bangalore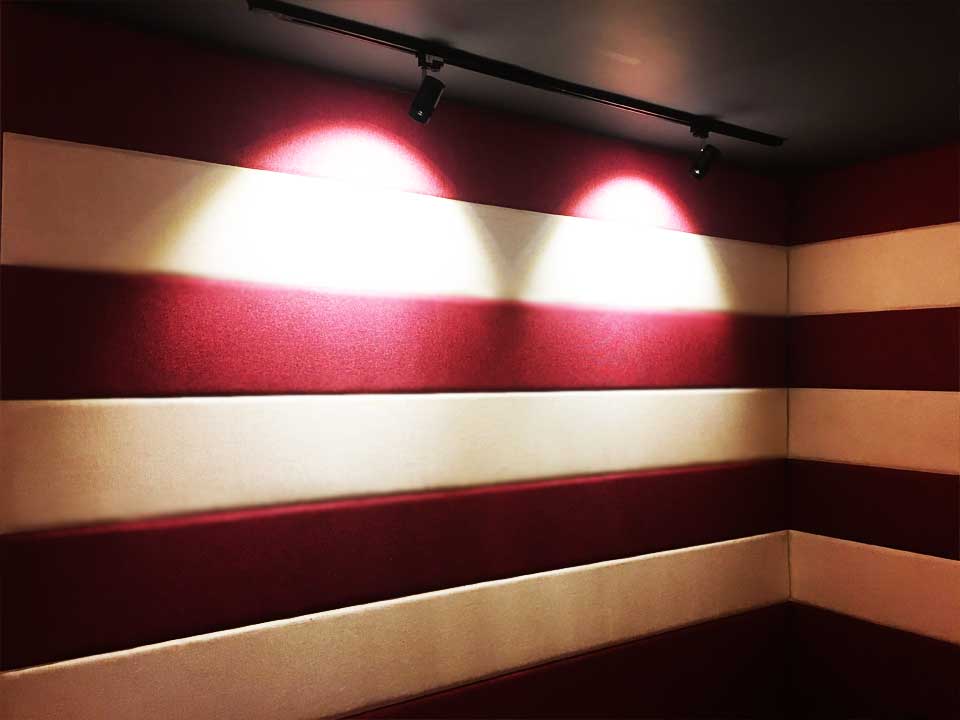 Acoustic Treatment was carried out for a Production and Recording Studio in Vijaynagar, Bangalore. The Treatment consisted of a plywood framework filled with 50mm thick Fiber Glass wool Insulation of 32 Kg Density / m3 and 18mm thick Jitex Wood Wool Acoustic Board. The finish comprised of a 12mm PVC Gripper track system, 12mm PU Foam with standard Acoustic Jute Fabric.
The design comprised of Horizontal panels with each panel being 300mm in width. The Panels were covered alternatively with the colors Dark red and Off-white. With a very rich finish given to the walls, a very basic false ceiling design was incorporated. The Ceiling consisted a Regular Gypsum Board false ceiling with 12.5mm thick Saint Gobain Gyproc Gypsum Board supported on Jitex G.I False Ceiling channel backed with 25mm thick Fiber Glass wool Insulation of 16 Kg Density / m3.
All in all, every aspect of the Recording studio complimented each other. Thus, not only helping us achieve the right amount of Acoustic Treatment but also to make the room look elegant enough to inspire and motivate singers to give their finest performance during recording and production.
The Following materials were Used:
1. JITEX Wood Wool Board (Acoustic Panel) – 18mm Thickness – 2ft x 4ft
2. JITEX Glasswool Insulation – 25mm and 50mm thickness with 16 Kg and 32 Kg density
3. Gypsum Board – Saint Gobain Gyproc – 12.5mm Thickness – 6ft x 4ft
4. JITEX G.I False Ceiling Channel
5. PVC Gripper fabric track system with 12mm PU Foam.
6. Jute Acoustic Fabric