Acoustic Treatment for a Office in JP Nagar, Bangalore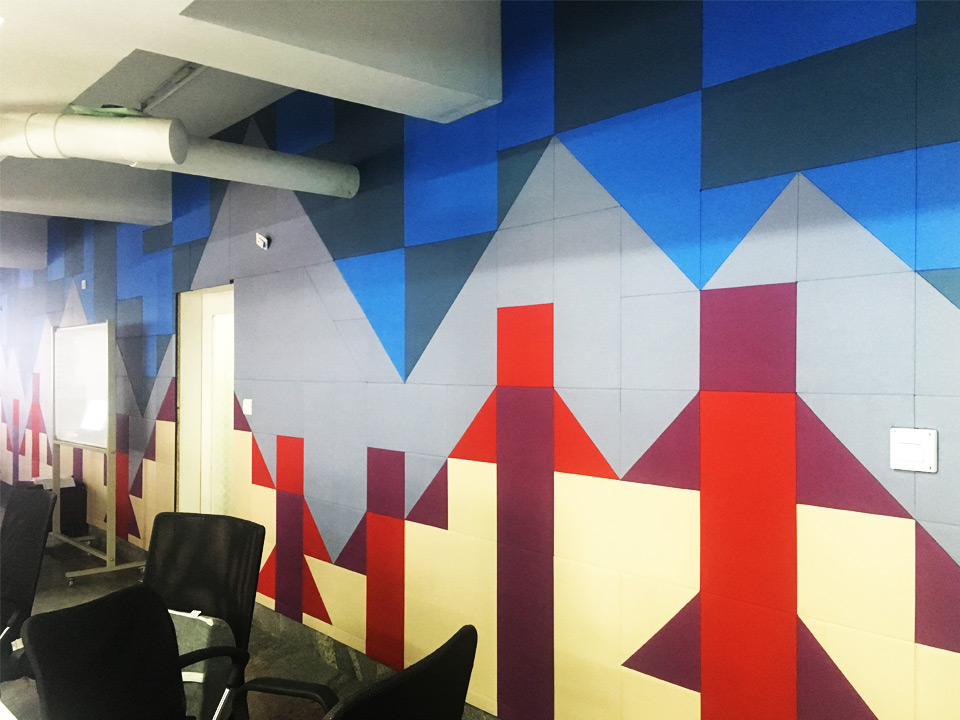 Acoustic Treatment was carried out for a commercial office space in JP Nagar, Bangalore. The Acoustic Treatment Process consisted of installing 18mm thick Wood Wool Acoustic Board directly on to the concrete wall and finishing it with a 12mm Thick PVC Fabric Gripper track system, 12mm Thick PU Foam and Fabric.
The design revolves around a basic Scenery theme closely resembling a Scenery drawing from a child's Art book. It shows a Bird's eye view of the beautiful blue sky with mountains sketched in various shades of grey. The blocks were created in various shapes and sizes of Squares, Rectangles and Triangles. A blend of both dark and bright colors made the office space look more vivid, dazzling and beaming with freshness.
As the office activities were similar to that of a call center, the noise and Echo were causing a disturbance and distraction while talking over the phone. We were able to achieve a NRC of upto 0.90 after installing the Wood Wool Acoustic Panels and an immediate difference was noticed. People were able to hear clearly and were not getting disturbed by the excessive noise and echo. Hence, improving office productivity.
The Following materials were Used in the Acoustic Treatment Process:
1. JITEX Wood Wool Board (Acoustic Panel) – 18mm Thickness – 600mm x 1200mm
2. PVC Gripper fabric track system with 12mm PU Foam.
Total Area where the Panels were installed: 900 Sft
Total Time taken for Completion: 15 Days