Acoustic Treatment for a Home Theatre in Jayanagar, Bangalore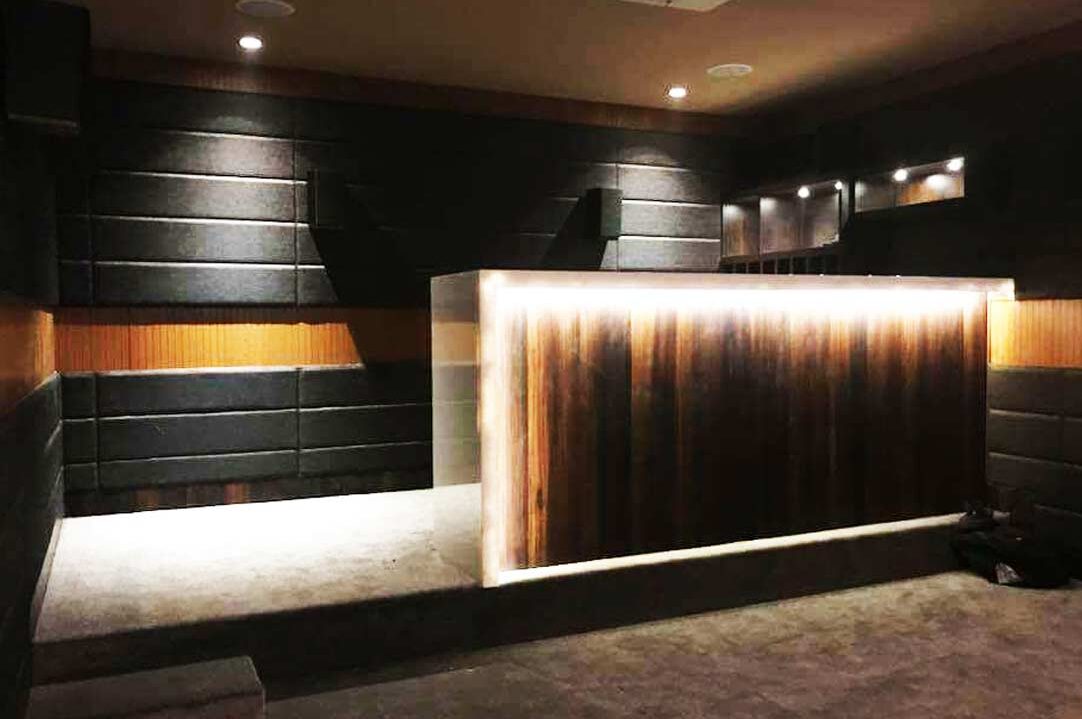 Acoustic Treatment was carried out for a 5 Seater Home Theatre in Jayanagar. The Treatment consisted of a Pine wood framework filled with 50mm thick Fiber Glasswool Insulation of 32 Kg Density / m3. Further to that, 18mm thick Wood Wool Acoustic Board was fixed on to the framework and finished with a 12mm PVC Gripper track system, 12mm Thick PU Foam and Fabric.
The design consisted of Horizontal Rectangular blocks with each block being 600mm x 203mm making the Home Theatre portray a very Rich and Elegant look.
The Ceiling consisted Regular Gypsum Board false ceiling of 12.5mm thickness backed with 25mm thick Fiber Glass wool Insulation of 16 Kg Density / m3. The False ceiling was designed to have two levels with Cove Light in order to improve the ambient lighting.
All in all, each and every aspect of the Home Theatre complimented each other helping us not only to make the room look elegant but also helping us achieve the Right amount of Acoustic Treatment required.
The Following materials were Used:
1. JITEX Wood Wool Board (Acoustic Panel) – 18mm Thickness – 600mm x 1200mm
2. JITEX Glasswool Insulation – 25mm and 52mm thickness – 16 Kg and 32 Kg density / m3
3. Gypsum Board – Saint Gobain – 12.5mm Thickness
4. JITEX G.I Channel
5. PVC Gripper fabric track system with 12mm PU Foam.