Acoustic Treatment For a Media Recording Studio in Jalahalli, Bangalore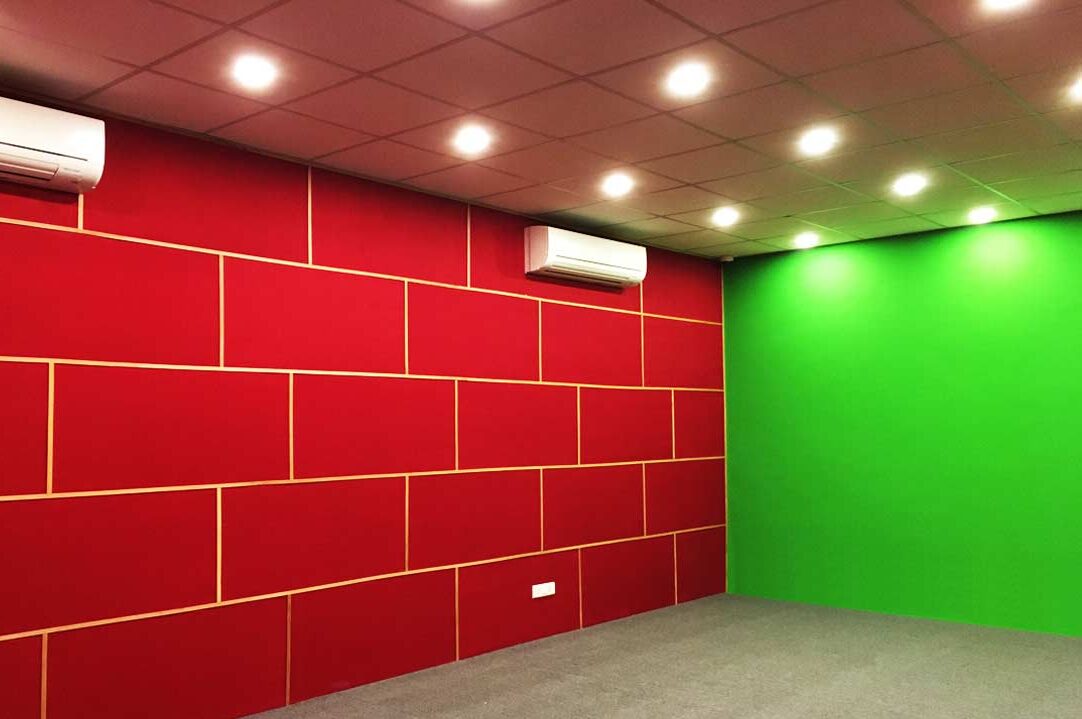 Complete Acoustic Treatment was carried out for a Recording Studio in Jalahalli, Bangalore. A mixture of different Acoustic and False Ceiling materials were used for this particular project, It included materials such as:
- JITEX 18mm Wood Wool Board
- Plywood and JITEX G.I Partition channels,
- Mineral Rock wool Insulation,
- Grid Ceiling with Mineral Fiber Ceiling Tile
- 24mm JITEX T-Grid Channel System
The Main Recording Studio included two aspects:
- Wall Paneling
- False Ceiling
In order to eliminate High Frequency Impact Noise, Wall Paneling of 18mm thick Wood Wool Board wrapped in fabric was installed on to a Plywood and G.I Partition channel support system. And to eliminate Low Frequency Impact Noise, a layer of 50mm thick Mineral Rock Wool Insulation slabs with 48 Kg Density per m3 were installed behind the Wood Wool Board. Thus, helping us achieve a combined Noise Reduction Co-efficient (N.R.C) of 0.95 and eliminating every form of Noise present in the room.
With regards to False Ceiling, 24mm T-grid system was installed. The System included:
Mineral Fiber Ceiling Tile
- Thickness: 12mm
- Size: 595mm x 595mm
- Texture: Pin Hole
- Edge: Square
With the Ceiling being white in color and keeping in mind regarding the Green Recording Screen, Standard Red Color RP Fabric was used on the Wood Wool Board along with a 1" wide Beading to create a Brick Pattern.
Customer Care
Bindu: +919945034989
Interior Designing by:
AN. Architecture Studio
Arjun: +919035208957
Email Address:
sales@jayswalgroup.com
jayswal1@yahoo.co.in
Address
#6, 10th B Cross, Jayswal Center,
KHB Road, Kavery Nagar,
Kanaka Nagar, R.T Nagar Post,
Bangalore - 560032.